With its unique locations, artistic masterpieces and a culture as ancient as it is remarkable, this wedding and honeymoon paradise is truly a once in a life time.
A wedding in Italy can take place in ancient history cities with important works of art like Florence, Venice or Rome; plus other smaller cities like Siena, Verona, Pisa, Ravenna, and in areas near the sea like the Amalfi Coast, specifically Sorrento, Positano, Portofino, Taormina, Capri, Sardinia; or in mountain areas like Cortina, Cernvinia, and many others!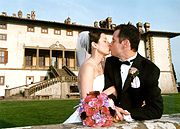 The obvious location for a ceremony in Italy would be in a Catholic church, but for that you have to be Catholic. The Catholic ceremonies are so beautiful and emotional; when the soprano sings Ave Maria, it gives us chills!
Another option are town hall weddings; they can be the most economical and they can take place in ancient palaces as the enchanting "sala rossa" of Palazzo Vecchio in Florence.
The third option is to be married in a Protestant wedding in a church, but to make this legal you would first have to get married in the town hall.
We suggest another option Tuscany villas for weddings.